QUIZ
Quiz: The ICD patient with chest pain
Article Summary
DOI: 10.24969/hvt.2018.54

Page(s): 26

OPINIONS, DISCUSSIONS, DEBATES
Published: 19/03/2018

Received: 18/03/2018

Accepted: 19/03/2018
Views: 6032

Downloads: 4860
Keywords: quiz, electrophysiology, ICD
PDF
PRINT VERSION
Comments
Address for Correspondence
Address for Correspondence: Jonathan Lipton,
Royal Hobart Hospital, Hobart, TAS, Australia
E-mail: jonathan.lipton@ths.tas.gov.au
---
---
Quiz on electrophysiology and case report
The ICD patient with chest pain
Dolly Marope1, Ashutosh Hardikar1, Keshav Bhattarai1, Jonathan A. Lipton1,2
1Royal Hobart Hospital, Australia
2University of Tasmania, Australia
An 81-year-old male was admitted after an out-of- hospital cardiac arrest and had a secondary prevention implantable cardioverter defibrillator (ICD) implanted. One day after implantation, he complained of symptoms of chest discomfort. Vital signs are stable and physical examination of the chest is unremarkable.
Question 1. What is the next most appropriate step in the evaluation of chest discomfort in this patient?
A) Coronary angiography
B) Chest X-ray
C) 12-lead electrocardiogram
D) Echocardiogram
Further investigations were performed and resulted in a chest computed tomography (see Fig. 1).
Question 2. What is the most appropriate management of the diagnosis observed on the image?
A) Non-steroidal anti-inflammatory drugs and Colchicine 0.5mg twice daily for 6 weeks with echocardiographic follow-up.
B) Emergency thoracotomy with removal of the ICD lead.
C) Placement of chest tube and follow-up chest X-ray.
D) Percutaneous revision of ICD lead in operating theatre with cardiothoracic back-up available.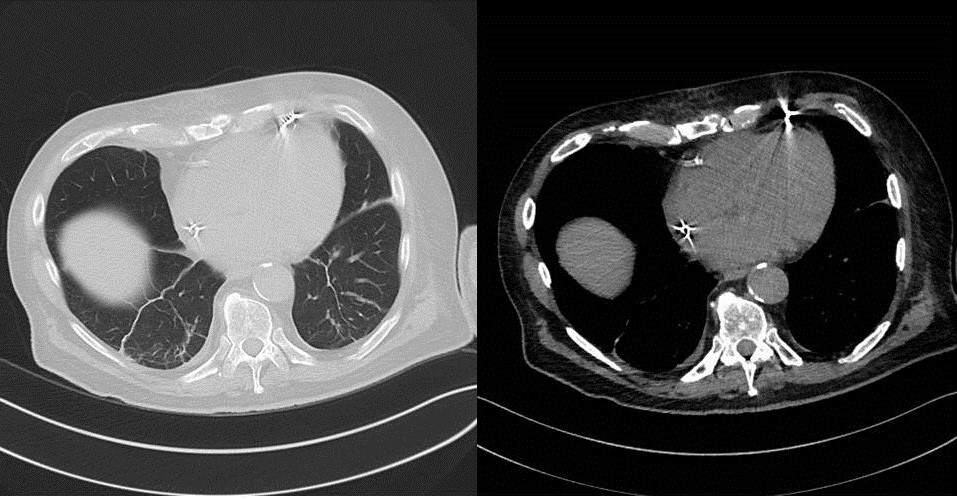 Figure 1. Chest computed tomography.
(Answer and case discussion- Page 29)
.