QUIZ
QUIZ : ELECTROPHYSIOLOGY
Article Summary
DOI: 10.24969/hvt.2018.74

Page(s): 79-80

Electrophysiology
Published: 16/08/2018

Received: 13/08/2018

Accepted: 16/08/2018
Views: 6575

Downloads: 4922
Keywords: quiz, electrophysiology
PDF
PRINT VERSION
Comments
Address for Correspondence
Address for Correspondence: Sok-Sithikun BUN, Cardiology Department, Princess Grace Hospital, MONACO
E-mail: sithi.bun@gmail.com, Phone: +377 97 98 97 71 – Fax : + 377 97 98 97 32
---
---
Presentation
A 38-year-old female patient is referred for paroxysmal episodes of recurrent palpitations (2-3 attacks per week), since 2 years. She does not have neither past medical history nor structural heart disease, excluded by echocardiography. The 24-hour Holter recorded several episodes of narrow QRS tachycardia (mean cycle length 420 ms). From the top, the leads presented are leads I, V1 and II.
A)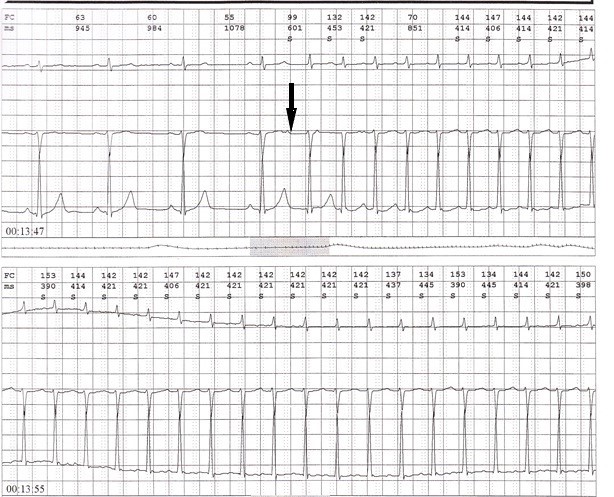 B)
1) Atrial tachycardia with first degree atrioventricular block
2) An accessory pathway-mediated tachycardia
3) Inappropriate sinus tachycardia with first degree atrioventricular block
4) Sequential anterograde conduction through the slow pathway explaining the long PR interval and then beginning of a slow-fast atrioventricular nodal reentrant tachycardia (on Panel B)
5) Atrioventricular nodal reentrant tachycardia with alternation of 1 :1 conduction, aberrancy on one bundle and 2 :1 infra-Hissian block
Sok-Sithikun Bun, Karim Hasni
Cardiology Department,
Princess Grace Hospital, MONACO
.